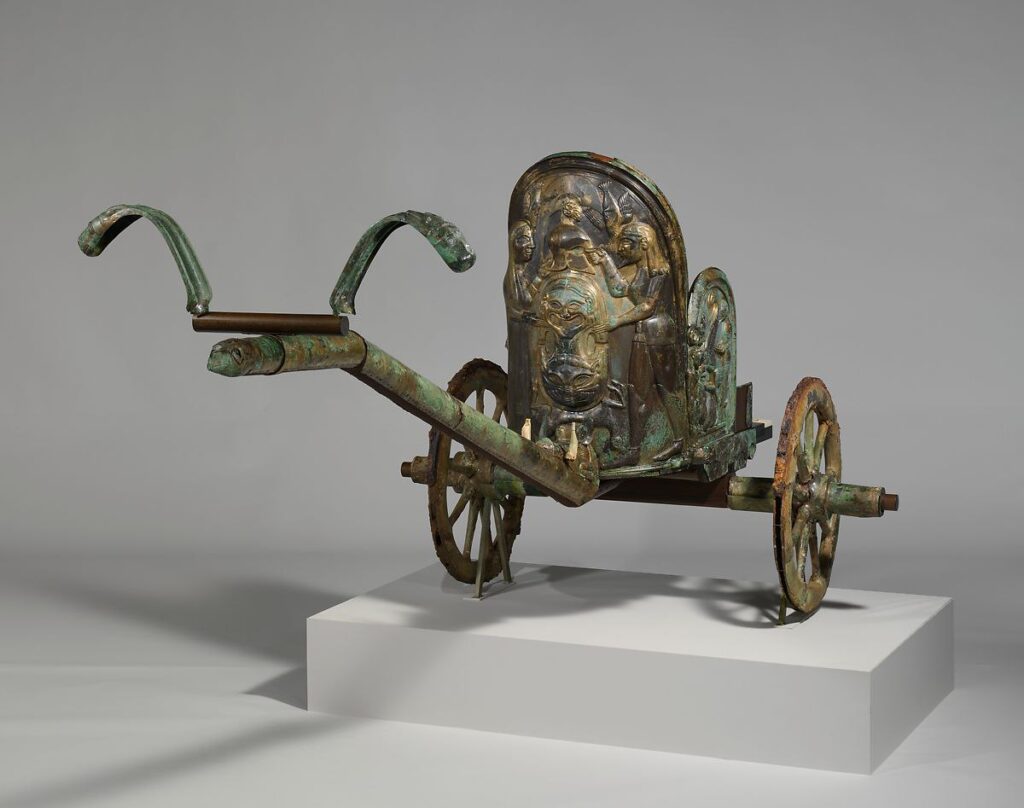 The Metropolitan Collection displays a chariot from Monteleone (c. 540 B.C.) richly decorated with relief mythological scenes. Bronze chariot inlaid with ivory. Etruscan. 2nd quarter of the 6th century B.C. Found near Monteleone di Spoleto in 1902 Decorated with scenes from the life and Achilles
The chariot from Monteleone was part of a burial and contained the remains of two people and two drinking cups. The chariot is 131 cm high and is designed to pull two horses. The chariot itself is made of wood, covered with forged bronze plates and carved ivory ornaments. The bronze plates are decorated with Homeric iconography; the main panel depicts Achilles being handed an armor by his mother, Thetis. The frame and the chariot's trim are further decorated with detailed depictions of animals and mythological creatures. The chariot's decorations also included inlaid amber and other exotic materials, but only bronze and ivory elements have survived.
The wheels have nine spokes each (rather than the classic Greek four-spoke, Egyptian six-spoke, or Assyrian and Persian eight-spoke; excavated chariots from Celtic tombs have up to twelve spokes).
Contemporary museum curators have long suspected that the original 1903 chariot reconstruction was not historically accurate. In 1989, under the direction of Italian archaeologist Adriana Emiliozzi, the Metropolitan Museum of Art began a five-year study and restoration of the chariot. During the restoration, it was discovered that the chariot had originally been assembled incorrectly; in addition, evidence was uncovered to suggest that the chariot, previously considered of little practical use, had in fact been involved in a serious accident at some point in its history. The presentation of the restored chariot was scheduled as part of the Metropolitan Museum of Art's overhaul of the Greek and Roman galleries, which opened on April 20, 2007.